Basement Designs By John M. Browning  "Expert Space Planner & Professional Architectural Designer" 
designing in Denver Since 1988 national designs by email protocol Since 2001
You're about to find out how to get your basement designed by a professional and how easy it is if you follow a simple yet proven email design protocol I use.
I'll provide for you a high quality (very detailed) Basement Design you can build from, get quotes from and pull permits with at a cost lower than you'd expect just by using my proven email protocol! Please read on to find out how easy this is and how I do it!
Basements Cleverly Designed to NOT look like Basements typical do.
---
A Professionally Designed Basement or Any Home Improvement Project Designed By John Browning

                
I'm John M. Browning with Basement Finishing & Design Service, Inc. a home improvement expert and design professional with over 35 years experience in the building trades.   I specialize in interior design (not decorating), space planning, functionality of space and space problem solving. I know the demand for finishing basements and designing them to work with the existing home décor and theme is hot and I'm part of the cause I guess.  Looking for the "WOW" factor or just a simple design? I'm very talented in many areas but having over 90k hours on this software makes this design service very affordable and it's easy to provide this service to anyone, anywhere, for any budget, just by sending in your measurements and photos via email. There's no cost to you to find out how much the design will cost so get a free quote from me today.
From concept and thought, to a working basement design, I will strive to design with you an inviting living space, making the best use of that basement space. I'm considered by so many, as one of the best in basement design and construction.  I can assure you that I will NOT design them to look like a boxed in chopped up basement in any way if possible. All basements are very complicated to design due to duct work, pipes, post and many other items placed where the building contractors and architecture thought things should be. You see, what's in your basement and where things got placed, seems to be the leftovers of your home construction process. Since I have been in the building trades for over 35 years and designed over 2000 basements to date, I know what needs to be done and will redesign your project correcting almost anything needed to make it as nice as possible yet keeping construction cost down. Keep in mind that I've stood in thousands of basements and I don't need to stand in yours to provide this service. I comprehend what I see in photos very well and once you've provided me the information I request, you'll have a nice flowing open floor plan that fits your lifestyle, matching the existing architecture, fitting your budget by using my great ideas and skills. I use PayPal for your fee and I have a high rating at PayPal due to the fact that I deliver what you are paying me for. If you're looking to work with a very talented professional, then I'm the guy you want.
Using my 35 plus years of experience, my natural creative abilities and problem solving skills as well as the state of the art

3D Computer Aided Design (CAD) software

,

I will help make your thoughts and dreams a reality.
This software allows me to show you in 3D images what your finished basement will look like  and having these 3D views all on PDF images makes this process so easy. Although basement finishing and basement space planning is my specialty, I also design home theater rooms,  custom kitchens, baths, additions and will improve any existing floor plans, blueprints & layouts into more usable livable spaces.  I can handle any type of design for home remodeling or home improvement projects needed,

even if you live outside of Colorado

.  I have so many satisfied clients all over the USA and Canada now and once you contact me, You'll get a reference list of almost 200 happy clients all working with me through email. Just ask them how well I do this.

 I understand any hesitation you have working with someone through email but I have a easy to follow protocol doing this through email but more so, it's because I comprehend so much of this so well once I see your photos, dimensions and you answer the wish list/questionnaire keeping in mind the 2000 plus basements I've already designed to date!

 
So it's very easy to get a free design quote from me. To get started click Contact Me To Request Free Quote  (at my other web site) or at the bottom of any page at this site and I'll reply back with a link for you to download or just review two pages of references (almost 200 of them), a questionnaire to send back to me telling me how you want to use the space and FIVE sample PDF portfolios with 3D graphic views and and very detailed plans showing you my CAD workmanship. Then I'll just need photos, a sketch with at least all perimeter wall dimensions and the questionnaire sent back to me which is all explained in the link I send you or at this link Design Cost and How It Works . Then you decide if you wish to retain my great services. There's no cost to find out and you are not tied or committed to a builder. You're completely free to use the plan to get bids and to pull permits with.
Recommendations:
If you're looking for bids, have a design first as a master plan to get apples to apples pricing and to know what it is you're building. Don't put the cart before the horse, no one can provide real pricing without a plan to price it from; they're just guessing so they can skip this important step which can mean they only want your money! No reputable company can bid a job without a plan as a Home builder can't bid a new house without a plan. Don't trust any contractor willing to write a contract without a detailed plan. A plan signed by both parties should be considered an attachment to the contract and the words " built as per approved plan" should be in the contract. Also, never sign a contract asking for more than 10-15% up front before the work starts and have the payments made smaller based on performance and phase of completion and also ask for lien wavers from each sub-contractor when paying. Good luck and enjoy my photo gallery .
---
Over 35 Years of Design and Construction Experience Shows
---
Example of my creative talents:
Before I Design, I study the space like this one.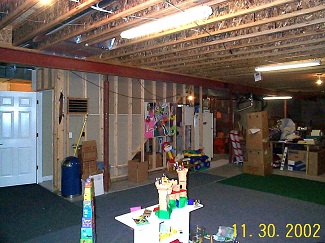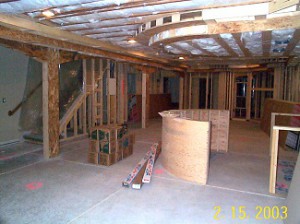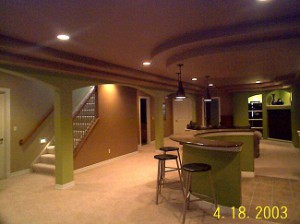 Now notice that the post holding the I – beam is now the center of the archways and the stairway is open and the door is removed along with the old walls.
Considering all that you desire in your new space, your project, once designed, will be built "AS PER PLAN" with no mistakes or rework.
Having over 90,000 hours on the CAD software, with over 2000 designs under my belt, backed by over 35 years in construction speaks for itself and  almost anything is possible. I've been known to move post and beams, convert crawl spaces into a finished basement and even lowering a floor to create more head room. Just ask if I can do it.
May I create an illusion for you too?
Good Planning pays off in the end.        It really is, "All in the Plan".
Visit my newer site if you have other questions by clicking here;
FAQ's